Full-face PMO
In full-face prosopometamorphopsia (full-face PMO), features on both sides of the face are distorted (Dalrymple et al., 2014; Blom et al., 2014). For example, a woman who we tested in our lab, reported distortions to many face parts (both eyes, nose, mouth, and the contour of the face)(Dalrymple et al., 2014). In addition, the distortions she saw grew larger over time. Below you can see how the patient described her perceived distortions for two faces.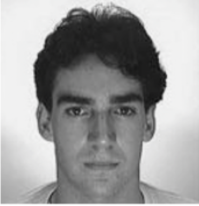 WE WANT TO HEAR FROM YOU!
If you are experiencing face distortions or similar symptoms, please fill out this form to contact us. We are based in the Department of Psychological and Brain Science at Dartmouth College.